Fullmetal Alchemist by Hiromu Arakawa
Edward and Alphonse Elric have committed the taboo of alchemy, human transmutation, to try and bring their mother back to life and paid a hefty price—Ed the loss of two of his limbs, and Alphonse his whole body. Now, with Alphonse's soul bound to a suit of armor and Ed fitted out with prosthetics, they're on a quest to fix their mistakes and restore their bodies with the power of the mythical Philosopher's Stone. This quest is helped and hindered by Ed's position as a State Alchemist at the beck and call of the country's military. As they delve deeper into finding the stone and cleaning up State problems, it becomes clear that there is more going on in Amestris than first appears, and that the Philosopher's Stone might hold some dark secrets.
Fullmetal Alchemist is one of those series that has a little bit of everything: action, humor, supernatural, friendship, good world building, well-paced plot, and a great assortment of dynamic characters. There is military intrigue, alchemy—which functions more like a science than magic—and even a bit of a romantic side plot later down the line. Even with all the action and superhuman alchemic feats going on, it remains at its core a very human story. Characters are motivated by family, regrets, pursuits of power, loyalty, greed, a full spectrum of human emotion. Humor blends with serious moments and keeps the tone from getting too heavy. And when it does get serious, emotional moment is impacting and any violence that happens doesn't leave an impression of violence for violence's sake. It looks frankly at the after effects of genocide, war, and trauma, but it also celebrates little human moments of family, close friendships, and working for a better world.
I admit to a bit of a bias with this series as it's my favorite, but it is a well-rounded series that holds up through rereads and over time. For those interested, it has two anime based off of it, one from 2003 that diverged from the manga plotline, and a reboot called Fullmetal Alchemist: Brotherhood that more closely follows the manga events to the series' completion.
Available in the following formats:
Manga
Anime (DVD) (Blu-Ray)

Similar series: Blue Exorcist by Kazue Katō and Soul Eater by Atsushi Ōkubo
+Anima by Natsumi Mukai
There are people in the world with the ability to gain animal traits called, +anima. +Anima can be pretty much any animal, but they seem to come to those who need them, especially children. Cooro is a crow +anima who has been able to grow wings for as long as he can remember. As he travels, he finds other +anima, children like him who have had +anima come to them when life was at its worst. As +anima join Cooro in his travels, the causes of +anima and their abilities are brought to light along with the pasts of the children traveling together. +Anima are not welcome many places, so they are searching for a place to call their own.
+Anima is a very cute story at first glance, but a bit more bittersweet the further into the series you get. It's a bit of a mix between an adventure story and a journey of healing and self-discovery as the characters come to terms with their +anima and the traumas in their life with the support of one another.
Similar series: Aventura by Shin Midorikawa and Desert Coral by Wataru Murayama
Initial D by Shuichi Shigeno
Takumi Fujiwara is a gas station attendant working to afford his first car, and when he's not doing that, he's driving his family car delivering tofu each night on the mountainous roads of his hometown. After a tofu run leads to an impromptu race down the mountain roads, Takumi finds himself getting pulled into the life of a mountain street racer. Takumi has skills built up from years of learning how to deliver tofu without ruining its delicate water balance on winding, steep roads, but as he gets further into street racing, he finds that there's still a lot to learn to be the fastest driver.
Initial D is definitely one of those series to read if you're a car enthusiast. The series takes time and attention on different makes and models, engine types, and the minutia of how characters pull off their death defying races. What starts as a series of racing on a specific mountain town, eventually expands to the characters racing elsewhere and working toward being the fastest racer out there. It has a pretty unique drawing style, but there is no effort spared in attention to detail on the cars.
Available in the following formats:
Manga
Anime

Similar series: Yawamushi Pedal by Wataru Watanabe (Manga and Anime) and Speed Racer by Tatsuo Yoshida
Skip Beat! by Yoshiki Nakamura
When Kyoko's childhood friend, Sho, asked her to run away with him when he went to pursue his dream as a music idol, she was more than happy to go and give him the support he needed. There's no bigger fan of Sho's work than her. But when it becomes clear that Sho's offer was just to use her support and dump her, Kyoko vows to get revenge—in show business. Kyoko doesn't know how to act or sing or put on a comedy sketch, but she's determined to become more popular than Sho and see who is looking down on her then. Kyoko joins the rival talent agency, aiming for the top, but she has a long way to go to move past her bitter feelings and just maybe get her revenge on Sho.
Skip Beat! is a quirky dramatic comedy full of distinctive characters all reaching for their goals in stardom. Kyoko is simultaneously cheerful and polite, ruthlessly driven by spite, and stuck on a grudge that makes her bitter toward anything resembling romantic love, and these different aspects of her personality clash and combine dramatically in creating much of the series' comedy. As it goes on, the story is less about Kyoko's grudge and more about Kyoko finding herself and learning to take pride in her acting abilities. With the help of a famous actor mentor, a reluctant best friend, and a meddling boss, Kyoko makes her way in the acting world and into the person she wants to be for herself instead of anyone else.
Similar series: Honey Hunt by Miki Aihara and Oresama Teacher by Izumi Tsubaki
Jenna Mansfield is a shelver at the Middlefield Branch. She is currently reading Scythe by Neal Shusterman.

Available in the following formats: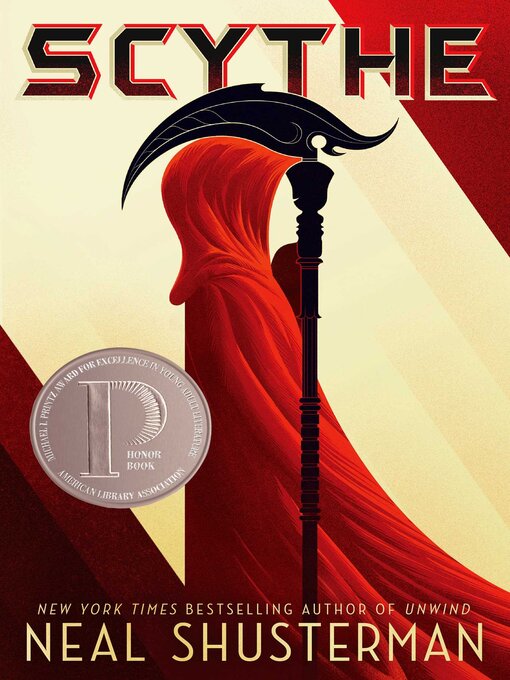 Book
eBook
Audiobook