This Celebrating Geauga Small Businesses Blog focuses on Pat Martin, owner Antiques on the Square in Chardon. They are celebrating their 33rd anniversary today! Stop by this weekend for their Anniversary Sale. 
GCPL: When was Antiques on the Square founded?
Pat Martin: March 23, 1985
GCPL: What is the story behind your business? How did it begin? What challenges did you face in getting started & how did you overcome them? What challenges do you face in your day-to-day operations, and how do you overcome them? What is your favorite part of owning a business?
PM: I had been a department manager for Saks Fifth Ave. in Beachwood, and after several years I wanted to do something else. My husband and I started looking for a storefront. We looked in Madison and in Chardon but decided on our current location. Zamers Music Store was wanting to close …..perfect timing!  The building needed a lot of work so we went to the bank to get a small business loan, the loan officer just shook his head and said,  "Antique shops aren't in store fronts. They are in people's homes!"  Plus, we didn't have any debt, which meant we were a risk! We didn't get the loan, so we got a credit card and used that instead for renovation and paid it off as soon as we could. That loan officer came to the store a year later just to see if we survived…
Geauga County winter weather is a challenge in January and February. It kills my business and if the TV stations broadcast from the Square it makes it worse.  In 2010 the biggest challenge of my life happened. My husband suddenly passed away. I was devastated, but the store was was my salvation. I had to keep it running.
My favorite part of the business is that I have the freedom to make my own decisions and to enjoy being with the public. I have made wonderful friends in the past 33 years!
GCPL: Why did you decide to start your business? What inspired it? 
PM: My late husband, Greg, and I started collecting antiques early in our marriage. We lived in a furnished married student housing apartment, so when he finished grad school, we moved to Ohio and did not have any furniture.  My parents gave us my grandmother's bedroom suite and some other furniture, plus my hometown was having a town-wide garage sale. We ended up filling up a truck and we were hooked!  As time went along the house began filling up. And then the basement. And then the garage!  
GCPL: What kinds of training and education did starting your business require (College, trade shows, seminars/conferences, etc.)? Have you ever used the library to help with this?
PM: My degree is clothing and textiles in business from the University of Northern Iowa. My husband's degree was finance and accounting from the same college, plus an MBA from University of Michigan. We were an excellent combination. I was a store manager for a women's clothing store in Ann Arbor, department manager for The Joseph Horne Company in Mentor, and a department manager for Saks Fifth Ave Beachwood.
GCPL: What resources did/do you find most useful in helping you to start, grow, and maintain your business (Books, software, training materials, databases, etc.)?
PM: My husband and I had the hands-on experience of business/retail. He was a marketing manager for Avery Dennison and I had the retail background. In 1985 a multi-dealer store was a new concept in the antique world. Now they are all over the country.

Before we signed a rental contract we had 80% of the dealers verbally committed to Antiques on the Square. 
GCPL: What advice do you have for people who want to start a business?
PM: Passion in what you want to do and a good business plan. Do your research!
Pat is currently reading Barbie and Ruth by Robin Gerber. She says,  "It is the story of Ruth Handler, who started Mattel Toy Company and the inventor of the famous Barbie doll! Barbie was very much a part of my life, coming from a small farming community in Iowa, I didn't have a lot of kids to play with so she was a a good companion.  I was lucky enough to have Barbie's Fashion House. I had many fashion shows and played store. Little did I know I would be "playing store" in my adult life.
Available in the following formats: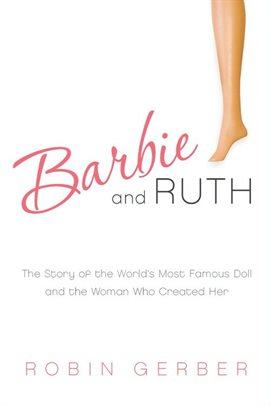 Print
eBook