(Editor: After reading this great article about New Year's Resolutions in the Geauga County Maple Leaf, we decided to dedicate two weeks of #GCPLResolutions to wellness. We reached out to some of the local community members interviewed, asking them to write Blog posts or suggest resources, which we will be sharing out both weeks. Thank you to these community members, and to the Maple Leaf for starting the conversation! The following Blog post is from Donald DeCarlo, MD, Chief Medical Officer, University Hospitals Geauga Medical Center. As a high school athlete, Dr. DeCarlo set a new state high school record for the mile that stood for 20 years. In college he ran track and cross country while earning a bachelor's degree in exercise physiology from West Virginia State University.)
If your New Year's resolutions include "getting in shape," some form of exercise to improve your cardiorespiratory fitness should be part of your plan. Running is one of the best exercises to do that. As a lifelong runner, I enjoy helping others get started on a running program for themselves.
Your cardiorespiratory fitness determines how well your body is able to transport oxygen throughout your body during prolonged exercise and how efficiently your muscles can use the oxygen to help generate energy.  Keep in mind that your heart is a muscle – it gets stronger with use.
The most important equipment you will need to start a running program is the right footwear. Good running shoes, properly fit, will help you avoid injury.
Stretching before you exercise is also important for injury prevention.  You'll want to stretch for 10 to 15 minutes before taking off. After you run, doing a few minutes of stretches will help prevent muscle cramps.
Hydration to replace the fluids you lose by sweating is important year-round, even if you are running indoors in winter.  Drink plenty of water an hour or two before you run, take small sips from a water bottle as you run and drink more water after you finish. 
The final step in gearing up for a running program is to set your goals. If you are just starting out, a simple, straightforward goal could be to work toward meeting the American Heart Association's recommendations: 150 minutes a week of moderate aerobic activity, 75 minutes a week of vigorous aerobic activity or a combination of the two. For most people without health concerns, that translates to running three days a week.
As part of your goal setting, you will need to know your heart rate target zone, the heart rate you need to achieve while you run. This table from the Heart Association shows target heart rate zones for different ages. Your maximum heart rate is about 220 minus your age.
In the age category closest to yours, read across to find your target heart rates. Target heart rate during moderate intensity activities is about 50-70% of maximum heart rate; during vigorous physical activity it should be about 70-85% of maximum.
| | | |
| --- | --- | --- |
| Age | Target HR Zone 50-85% | Average Maximum Heart Rate, 100% |
| 20 years | 100-170 beats per minute (bpm) | 200 bpm |
| 30 years | 95-162 bpm | 190 bpm |
| 35 years | 93-157 bpm | 185 bpm |
| 40 years | 90-153 bpm | 180 bpm |
| 45 years | 88-149 bpm | 175 bpm |
| 50 years | 85-145 bpm | 170 bpm |
| 55 years | 83-140 bpm | 165 bpm |
| 60 years | 80-136 bpm | 160 bpm |
| 65 years | 78-132 bpm | 155 bpm |
| 70 years | 75-128 bpm | 150 bpm |
As you run, periodically check your heart rate. The easiest way to do this is with a wearable activity tracker like a Fit Bit. Don't have one? You can check your heart rate manually by taking your pulse for 30 seconds and multiplying by two.
I always recommend keeping a log of your runs by time, distance, heart rate and date. Tracking your activity this way will help keep you on track with your fitness program and show your progress as your fitness level improves.
Looking for some resources to help you take off running? Check them out on Clevnet, Hoopla, and Overdrive! 
Dr. DeCarlo is currently reading The 21 Indispensable Qualities of a Leader by John C. Maxwell.
Available in the following formats: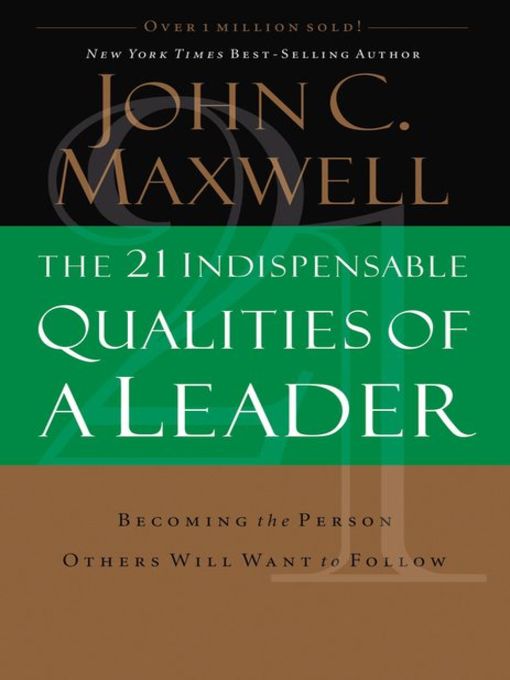 Print
eBook
Audiobook (CD Hoopla Overdrive)